Zulu Accent and Dialect Coaching
(For Choirs, Ensembles, Auditions, Competitions, Concerts, Theatres and Films)
Songs have been an essential part of our language experience since time began and used in conjunction with spoken language, can be a most powerful tool. No need to look any further than Shakespeare!
Music can immensely enhance multicultural understanding particularly in an age of cosmopolitan diversity. Our courses assist significantly in bringing together and teaching one another about peoples' of different race, religion and culture with the objective of significantly increasing knowledge of other cultures.
Music is therefore a means for teaching languages, especially to children; it can also be used as an 'icebreaker' in our modern society. 
Considerations for selecting appropriate music for learners and experts:
  We can offer a multitude of different types of songs, ranging from nursery rhymes to contemporary pop songs, all being easily comprehensible by all ages.
  We select the songs in line with what you sing in a choir and - why not select a new one to introduce to them.
  Lessons are implemented appropriately and if required I can be present to assist during choir practices.
  After tuition, students have the opportunity to sing in public with their choice of song - goodbye to 'embarrassing' karaoke!
  Zoë Dlamini is a dialect coach who lives in Wijchen working largely in cultural settings coaching pupils of all ages from 7 to 75! In fact anyone who has the enthusiasm to learn.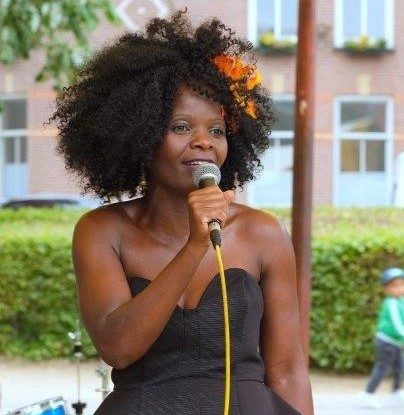 Stay young!!!
Learning a new language can stimulate your mind, Keep learning – Stay Young!
Zoë will work one-to-one with you or with several people simultaneously at the rates quoted below, or in cases with clients father-afield, through 'video-conferencing'!
Coaching rates are as follows excl 21% VAT( Zero VAT for students under 21 yrs of age):
1-hour session for €225 for groups (max15)
1–hour session €225 for corporations (max 15)
Individual coaching; prices available on request
Skype/ Phone tuition also available.
Scheduling:
Zoë schedules Skype sessions every day from 10:00am-4:30pm including weekends for those without weekday availability.
Afterhours can be arranged individually from 7:30 pm till 10:30pm for those that are 'day-squeezed'!
What can you expect from a Session with Zoë?
Pronunciation Lessons: Featuring entertaining guides to everyday related
pronunciation and prosody geared to help with singing of songs. 
Accent Reduction: Vocabulary usage relevant to the lyrics of the song/dialogue. Enjoy the tongue twisting experience!
After a session you will be provided with an audio voice exercise for practice at home crafted specifically on the lines of the dialogue you need.

Repeated sessions are not therefore necessary!